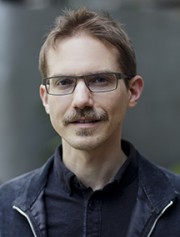 Breggin Benjamin
Lecturer
Department of Languages and Communication
Benjamin Breggin was the Coordinator of SSE Riga's Academic English programme from August 2007 to July 2014. He is currently a part-time lecturer and language consultant for the School.

Education
BA, Sarah Lawrence College; MSc, PhD, University of Edinburgh

Research interests
Language preferences in multilingual environments; culture and identity in the Baltic Sea region

Publications & Articles
Riga City Youth between Latvian and Russian, Journal of Baltic Studies, 2013. DOI: 10.1080/01629778.2013.853199
Intercultural Language Trends at a Quadriethnic English-medium University in the Baltics, Journal of Intercultural Communication, October 2009. http://www.immi.se/intercultural/nr21/breggin.htm
Baltisches und Heidnisches in Eduard von Keyserlings Ein Frühlingsopfer, in Michael Schwidtal (ed.), Hier ist woanders. Das baltische Welterlebnis der Keyserlings. Heidelberg: C. Winter, 2007.
Fontane's Aesthetics of the Slavic Race, German Life and Letters, July 2003. DOI: 10.1111/1468-0483.00253